Overnight French Toast Casserole
Yields: 12 Servings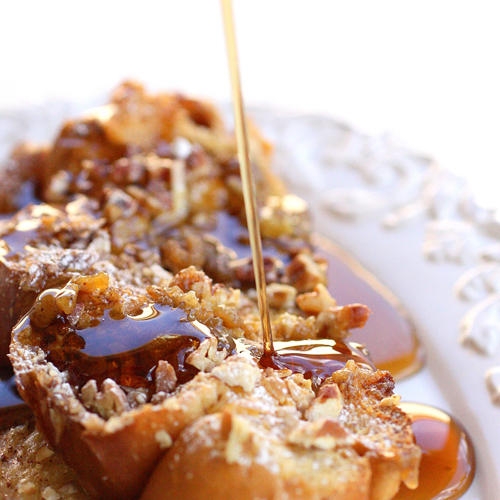 Recipe from Tablespoon: http://www.tablespoon.com/recipes/overnight-french-toast/dc9d4207-98ec-4858-b1d1-93a53c6b1a27 An easy overnight French toast casserole that can be prepared in under ten minutes. Great for serving company!
1/4 cup butter
3/4 cup packed light brown sugar
1 loaf brioche or challah
8 Eggs
1 cup whole milk
1 Tablespoon vanilla extract
1 teaspoon ground cinnamon
1/4 teaspoon ground ginger
1/2 cup pecans
1/8 teaspoon salt
maple syrup and powdered sugar for topping
Instructions are at http://quick-dish.tablespoon.com/2011/02/25/overnight-french-toast-casserole/.
Nutrition
Calories: 129

Fat:

7.91016771599 grams

Carbs:

11.7234264648 grams

Protein:

3.26091208374 grams