Roasted Fingerling Potato Salad with Lemon and Thyme
Yields: 6 Servings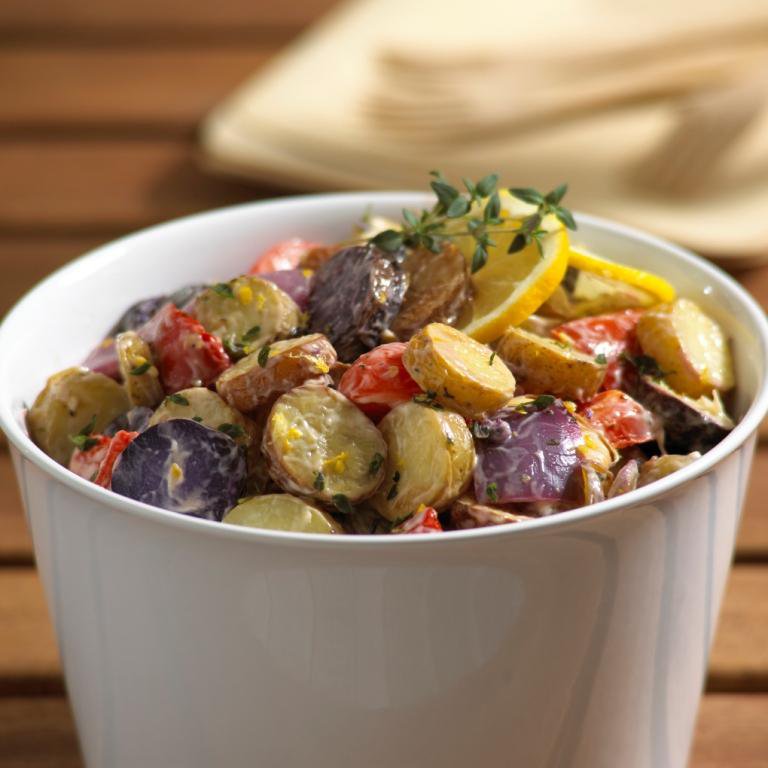 Salad
1 1/2 pounds Fingerling potatoes
1 Red bell pepper
1 Red onion
3 tablespoons Extra virgin olive oil
1/2 teaspoon Kosher Salt
1/8 teaspoon Pepper
Dressing
1/4 cup Light or olive oil based mayonnaise
1 1/2 tablespoons Lemon juice
2 teaspoons Extra virgin olive oil
2 teaspoons Fresh thyme leaves
1 1/2 teaspoons Lemon zest
1/4 teaspoon Kosher Salt
1/8 teaspoon Pepper
Preheat oven to 425°F.
Toss all salad ingredients together in a large bowl.
Spread in a single layer on a large baking sheet and cook for 20 to 25 minutes or until potatoes start to brown.
Let cool for at least 10 minutes.
Meanwhile, whisk together all dressing ingredients in a medium bowl; toss with cooled vegetables.
Serve at room temperature or chilled.
Makes 6 servings..
Nutrition
Calories: 137

Fat:

4.12890967603 grams

Carbs:

23.0559032907 grams

Protein:

2.72283492205 grams