Asparagus with Hazelnuts and Tarragon Vinaigrette
Yields: 4 Servings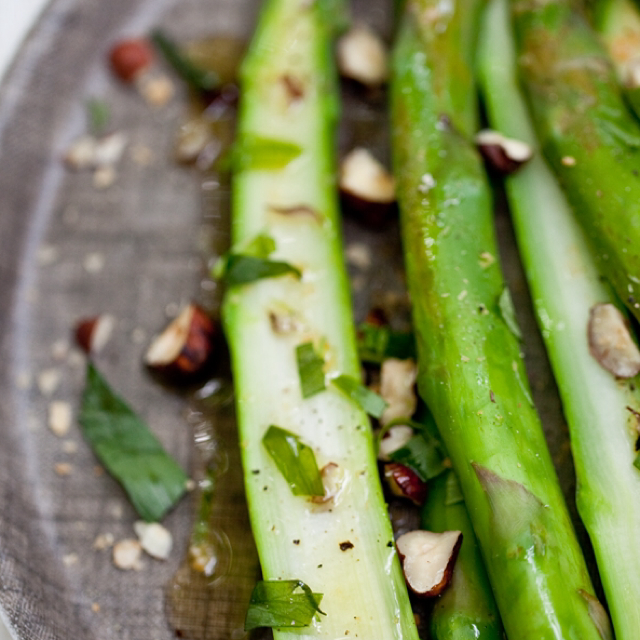 1 lb Fresh asparagus
1/4 c Shallots
3 tb Tarragon-white wine vinegar
4 ts fresh tarragon
1 1/4 ts Dried tarragon
1 ts Dijon mustard
7 tb Hazelnut oil
4 c Baby lettuces
1/4 c Hazelnuts
Pour water into large pot to depth of 1 inch and bring to boil.
Place asparagus on steamer rack set over water in pot.
Cover pot and steam until asparagus is cresp-tender, about 4 minutes.
Transfer asparagus to bowl of ice water and cool.
Drain.
Place asparagus on paper towls.
(Can be prepared 6 hours ahead.
Cover and refrigerate.) Combine shallots, vinegar, tarragon and mustard in bowl.
Gradually whisk in oil.
Season to taste with salt and pepper.
Place baby lettuces on large platter.
Arrange asparagus atop lettuces.
Drizzle with vinaigrette.
Sprinkle with hazelnuts.
From The Loire Valley Bon Appetit/May 94 Typed by Didi Pahl.
Nutrition
Calories: 281

Fat:

27.0418739609 grams

Carbs:

8.87106598981 grams

Protein:

4.25757803493 grams
Recipe by Big Oven.com