Charred Corn Salad with Mint, Parsley & Cilantro
Yields: 4 Servings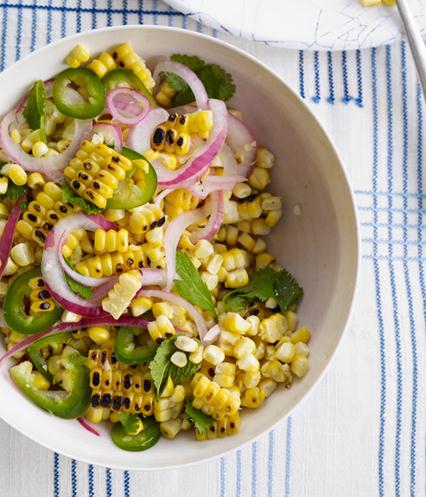 Is this the perfect summer salad? Serve with any grilled food.
4 large ears of corn
Extra-virgin olive oil
Salt
Freshly ground pepper
1/2 small red onion thinly sliced
2 1/2 tablespoons fresh lime juice
1 teaspoon pure maple syrup
1 jalapeño
3 tablespoons torn mint leaves
3 tablespoons torn parsley leaves
3 tablespoons torn cilantro leaves
Instructions are at http://www.foodandwine.com/recipes/charred-corn-salad-with-mint-parsley-and-cilantro.
Nutrition
Calories: 29

Fat:

1.19005059895 grams

Carbs:

4.76872807092 grams

Protein:

0.417950781263 grams