Gazpacho (cold Vegetable Soup)
Yields: 6 Servings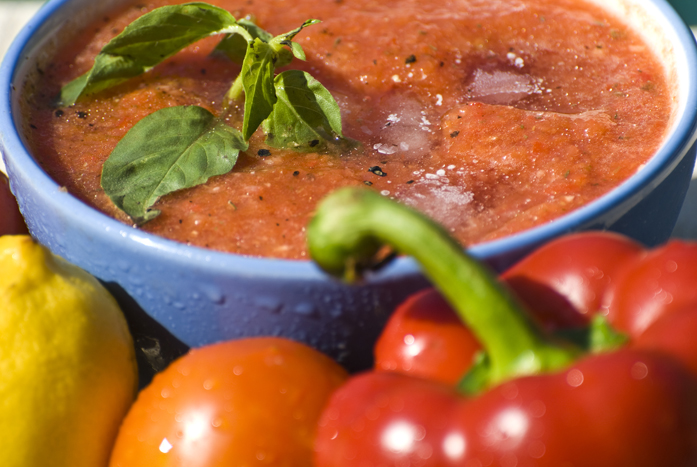 1 quart whole tomatoes
1 cup Salsa
1/2 cup Green pepper
1/2 cup Cucumber
1/2 cup Croutons
1/4 cup Onion
2 tablespoons Red wine vinegar
2 tablespoons Olive oil
2 cloves Garlic
1 Jalapeno peppers
1/4 cup Margarita cooler
1 1/2 tablespoon Ground cumin
1/2 teaspoon Salt
1/2 teaspoon Pepper, black
1/2 cup Green pepper
1/2 cup Cucumber
1/4 cup Onion
1/2 cup Croutons
Place all ingredients not reserved for serving into the blender (tomatoes, salsa, rough chopped peppers, cucumber and onion, croutons, vinegar, olive oil, garlic, jalapeno pepper, Margarita cooler or lime juice, cumin, salt and pepper).
Cover and blend on medium until smooth.
Cover and refrigerate for at least 1 hour (longer is better).
Serve with remaining ingredients as accompaniments. - If your blender is not large enough to do in one batch, roughly split the ingredients into 2 batches to blend.
Then stir together into one batch..
Nutrition
Calories: 402

Fat:

3.73667010142 grams

Carbs:

86.3438270344 grams

Protein:

11.9100307553 grams