Corned Beef and Cabbage Soup (Skinny Taste)
Yields: 5 Servings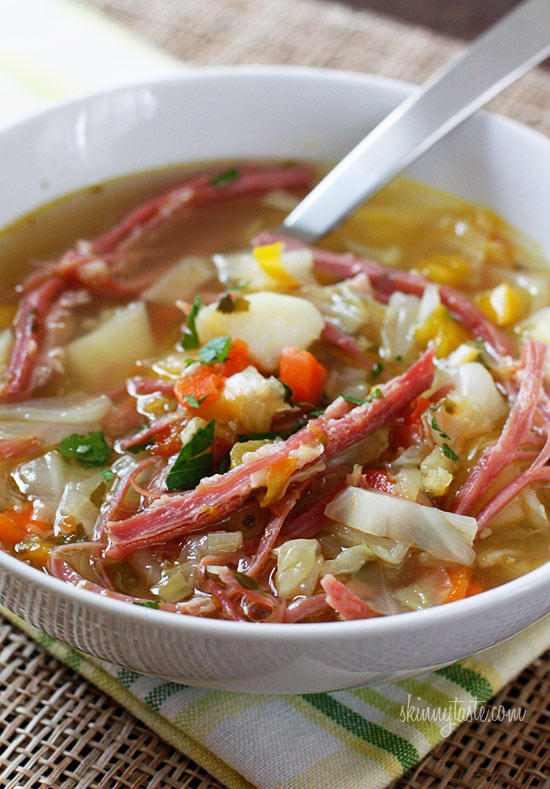 Original recipe from Skinny Taste: http://www.skinnytaste.com/2012/03/corned-beef-and-cabbage-soup.html Cook 2 1/2 pound corned beef (uncooked without fat = 2 pounds; cooked =18 ounces). Use half for soup. Reserve 9 ounces for second meal. Makes 9 cups.
1 teaspoon Olive oil
2 leeks
2 cloves garlic
3 medium Carrots
2 stalk Celery
1 pound lean corned beef
6 cups water
2 Bay leaves
1 small Cabbage
large Potato
1 stalk Celery
1 Yellow pepper
to taste Black pepper
In a large pot or Dutch oven, heat oil over medium low heat.
Add leeks and sauté until soft, about 4-5 minutes; add garlic, carrots and celery and sauté about 2-3 minutes. Add corned beef, peppercorns or seasoning packet that comes with the corned beef, water and bay leaves; cover and bring to a boil.
Simmer covered on low heat for 3 hours, until the meat becomes tender. Remove the corned beef, set it on a cutting board and shred with a fork.
Return it to the pot then add the cabbage, potatoes and half the yellow pepper.
Cook until the vegetables are tender, about 30 more minutes.
Add the celery and the rest of the yellow pepper and cook for another 15 minutes.
Taste for salt and pepper and adjust as needed..
Nutrition
Calories: 428

Fat:

14.3242159997 grams

Carbs:

44.1160380088 grams

Protein:

32.5865700122 grams